What Is Over/Under Betting?
At legal, regulated sportsbooks, the three main bet types — point spreads, moneylines and totals bets — capture the most attention. For the biggest sporting events, there's a significant amount of coin put on the lines.
Point spread bets can require time to get up to speed, while moneyline wagers are a great starting point for those new to Illinois sports betting. Totals bets, aka over/under bets, are somewhere in the middle of those two.
For both new and seasoned handicappers, there's a lot to love about totals betting. The sole focus is on how many points the teams will score total during a game in relation to the benchmark number set by oddsmakers.
You only have to answer one question: Will the total points be over that amount or under the benchmark? While simple, in theory, that doesn't mean that totals wagering is easy. It's not, but we're going to cover all you need to know to get started here.
What is totals betting?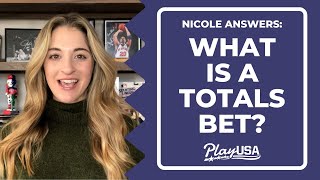 For each game on the docket, online sportsbooks will offer odds on the total points the teams or players will score in the contest. The oddsmakers will set a benchmark number. You then get to make the call on the over or under for the totals bet.
There will be odds on both sides of the equation, so the listing for a totals bet could look like this for an upcoming NFL game:
Over 5 (-110)

Under 5 (-110)
The bar has been set at 51.5 points for this matchup. If you think 52 or more points will be scored, then you would bet the over. For those who believe the total points will be 51 or fewer, they can choose the under.
Next to the two numbers in parentheses are the odds for the sides of the bet. At many online and mobile sportsbooks, the starting point for totals bets is -110, and the numbers can move from that point. We'll explain why that happens in a bit.
What does over/under mean in sports betting?
The term over/under is used interchangeably with totals. If you're betting on totals, you're making a call on the over or under for the benchmark number. When someone asks what the over/under is on a game, they're referring to the totals number set by oddsmakers.
At sportsbooks, totals bets are included in the default listing for games, right next to the point spread and moneyline. The listing may read as either totals or over/under, so remember that they mean the same.
How to place a totals bet in Illinois
Placing a totals bet is simple. This bet type is available for all games on the schedule, so it's only a matter of choosing the one you want to wager. The total can be found by the sports listed on the menu, or sometimes front and center in the main sports betting lobby.
For example, let's say you were interested in the total on an upcoming game between the Chicago Bulls and Detroit Pistons. Once you locate the game, you'll see the odds for the main bet types. The totals section may look something like this at DraftKings in Illinois:
Over 5 (-110)

Under 5 (-110)
Once you choose your side, it's just a matter of clicking the box that corresponds with your choice. The totals bet will be added to your bet slip immediately. Next, plug in your wager amount, verify that everything is correct and click the submit button.
Over/under betting odds explained
Many sportsbooks will use a default of -110 on both sides of a totals wager upon release. The odds won't necessarily stay in that spot the whole time. In fact, it's not uncommon to see the numbers shift to something like this on an MLB game:
Over 5 (-115)

Under 5 (-105)
In this case, the odds on the under side will deliver a better return potentially. So, why the shift? It's mainly due to the betting action. If public betting has come in heavy on one side, oddsmakers will tweak the lines to try to level out the action.
When that doesn't have the desired effect, it may be adjusted again. In some cases, you may see the total itself rise or fall, such as from 8.5 to 9 runs for an MLB game.
One of the cool things about sports betting is you can shop for the best prices. Line shopping simply means you are checking the lines at multiple books to find the best option. Our live odds feed can be a great tool to lean on for that.
For example, let's say that the total for a game between the Chicago White Sox and Minnesota Twins looks like this on FanDuel Sportsbook Illinois:
Over 5 (-109)

Under 5 (-111)
Meanwhile, BetMGM Illinois has the total for the same game priced in differently:
Over 5 (-106)

Under 5 (-116)
Between the two operators, there are a few ticks of difference on both sides. If you like the over, BetMGM online sportbook is offering a better price than FanDuel. You wouldn't even know it was out there without taking the time to shop around.
For a ballpark of potential returns on totals bets, a winning $100 wager at odds of -110 returns a profit of $90.90, thanks to the "vig" charged by books. The actual return will rise or fall based on the odds, so be sure to check the prices in several spots before placing your bets.
Online totals betting rules in Illinois
Many online sportsbook operators handle business in the same fashion. The placement and settlement of a totals bet is generally standard across the industry. That said, there may be instances in which books handle bets differently.
Here are the rules you need to know about totals wagers:
Totals bets are live once the game is underway.
Settlement happens at the conclusion of the contest and is based on official league data.
Games that are slightly delayed due to weather or other instances will remain active until the contest is completed.
For contests postponed to a later date or canceled outright, totals bets will be voided and wager amounts will be refunded.
While that covers the vast majority of scenarios, some anomalies creep in here and there. For the exact way that operators handle extreme circumstances on totals bets, take the time to review the house rules at the sportsbook.
What's the over/under betting range by sport?
As you gain experience with over and under betting, you'll begin to notice that there's a general range in numbers, based on the sport. Here's a quick reference guide to use as you get up to speed:
NFL: Low end: 30s. High end: 55+
NBA: Low end: 190s. High end: 210+
MLB: Low end: 7 or less. High end: 9.5+
NHL: Average 5.5, can range from 4.5-6.5
NCAAF: Low end: 30s. High end: 70+
NCAAB: Average range of 130s-150s
MLS: Average 2.0, could range from 1.5-2.5+
The good thing about understanding the general ranges is it allows you to break down the contests into tiers. For each slate of games, there may be several totals on the high or low end with everything else in the middle.
As you gain more experience with over/under sports betting, you may find that you prefer to focus on contests that fall into one of the three tiers.
Examples of over/under sports bets
NFL over/under betting example
The NFL is the most popular option at sportsbooks. Each football game and bet type will attract loads of action, including totals. Since so many NFL wagers come in, there's a good chance you'll see movement on the odds board.
For example, a game between the Chicago Bears and Los Angeles Rams may have a total that looks like this upon release:
Over 5 (-110)

Under 5 (-110)
Let's say that you're playing at Caesars in Illinois and keep an eye on the numbers. Many bettors start flocking to the over, so the sportsbook responds by moving the odds here:
Over 5 (-115)

Under 5 (-105)
The odds on the under side are now slightly more favorable, so that may have the desired effect for the sportsbook.
Over bettors in this scenario are looking for 45 or more points to be scored. A final of 24-21 gets it done, but 23-20 does not. For the under bettors, it's the opposite. They want to see 44 points or fewer, so 24-20 works great, but 24-21 would mean a losing ticket.
NBA over/under betting example
Totals betting is also incredibly popular with NBA handicappers. Points aren't too hard to find in the high-scoring league. Sportsbooks will release benchmark numbers for each game on the daily slate.
For example, here's what the total might look like for a potentially high-scoring affair between the Houston Rockets and Los Angeles Lakers:
Over 5 (-110)

Under 5 (-110)
Remember that the NBA odds and totals may move depending on betting action or any late-breaking news that may come in. You could see the odds go to -112 on one side and -108 on the other, or the total itself jump up to 212.5.
As always, you can shop around to see what the rest of the market has to offer. For our example line, 212 points or more — such as 112-110 — works just fine for over bettors, while totals that are less than that are losers. Under bettors want something like 110-100 for a total of 210 points to have a winning ticket, while 113-111 wouldn't be good.
MLB over/under betting example
From opening day to the World Series, there are plenty of betting opportunities with the MLB. Totals are one of the featured items on the baseball wagering menu. While scores are much lower in baseball than in basketball or football, that doesn't impede the action.
For a potentially high-scoring affair between the Los Angeles Dodgers and Colorado Rockies, the totals line could look like this:
Over 5 (-110)

Under 5 (-110)
As mentioned earlier, there's a general range for each sport that you'll get used to on the betting front. For MLB, games with totals of seven runs or fewer point to a pitching duel, while nine runs or more could be a contest in which the bats come alive.
For this matchup, the over bettors are hoping to see 10 runs or more on the board. A final score of 6-5 gets the job done, but 5-4 doesn't. Under bettors want to see 9 runs or fewer. A tally of 6-3 does the trick, but 7-5 means a losing ticket.
NHL over/under betting example
Hockey is also on the lower end of the scoring spectrum, but don't mistake that for lack of action. NHL games are exciting, and there are plenty of devoted handicappers who spend their time here. One of the top choices is totals betting.
For a random NHL game between the Chicago Blackhawks and Edmonton Oilers, here's what the hockey odds board might look like:
Over 5 (-110)

Under 5 (-110)
The NHL is pretty unique from a totals perspective in that the majority of games have a benchmark of 5.5 for the over/under. You might see 6 goals or 6-6.5 more here and there. Anything over or under that range would be an anomaly.
If you bet on the over, you want to see a good amount of biscuits in the basket. A high-scoring affair that winds up at 6-4 works, but a defensive slugfest of 2-1 does not. Under bettors will be perfectly content with a 3-2 game, but 5-3 would leave them disappointed.
Over/under betting for other sports
When two teams are on the schedule to square off, you'll find totals odds available. In addition to the sports we have covered already, you can bet on the over/under on the following sports:
You'll also see over/under opportunities in other sports, albeit in a different fashion. Here are a few examples of what you might see:
Golf: The over/under on golfer scores
Tennis: The over/under on total games in the match.
NASCAR: The over/under on total caution flags during the race.
UFC: The over/under on total rounds for the fight.
The overall approach to totals betting is the same, regardless of sport. You're choosing the over or under on the benchmark number provided by the book. Naturally, handicapping will differ depending on what you are playing, but certain basic rules apply across the spectrum.
Totals handicapping tips for beginners
When you begin researching totals betting opportunities, the primary goal is the same as with other sports wagering opportunities. You're looking for numbers you can make the right call on, as well as bets that will provide a nice return on investment.
The concept of the over/under bet is a simple one. You take a look at the benchmark number, do some research, and pick which side you think the total points will ultimately fall on. While easy to understand, that doesn't mean totals betting tickets are easy to cash.
Here are some tips you can use as you work toward finding an edge with betting totals:
Study Historical Data: A little historical research can go a long way with totals handicapping. You should look at recent meetings between the two teams to see what kind of games have unfolded. While there's no guarantee of what's to come in this matchup, clues are there. Also, review how the teams have performed over the last few games and on a season-to-date basis.
Understand Factors that May Impact the Numbers: What can really impact the score of the game? If it's a meeting of two stout defensive teams, then a low-scoring affair might be in order. When two clubs with sieve-like defenses play, then the scoreboard may light up. Additionally, keep an eye on the news for things that could impact the game itself. Examples include weather concerns and injuries to key players.
Shop Around and Watch Line Movement: Line shopping can make a big difference with totals. There are times when you can find a half-point of difference or more on the over/under. In addition, the odds could be at the standard -110 in one spot while another book has the same side at -105. These small differences may not seem like much, but they can absolutely make a difference on the results of the bet and your long-term performance.
These tips can also apply to individual sports. For example, if two tennis players have squared off in the past, studying the number of games it took to complete the match could be a good clue on what could happen this time around.
Finding consistency with totals betting can take some time, so don't be discouraged. The concept of the bet is simple, but choosing the right side isn't. Those who invest the time and effort can get over the hump before too long.