The Chicago Bears will kick off Sunday's game against the Carolina Panthers as underdogs for the fifth time this season, barring any drastic line movement.
Chicago is 4-1, but the market isn't buying the Bears just yet.
The Panthers, 3-2, have won three straight games despite losing Christian McCaffrey in Week 2.
Here are the NFL betting odds for this NFC Week 6 clash.
Bears @ Panthers odds
The Bears have only been favored against one foe this season: the lowly Giants.
Carolina has reeled off wins against the Chargers, Cardinals and Falcons the last three weeks. The early returns on new head coach Matt Rhule have been outstanding, and Teddy Bridgewater is playing well.
Bridgewater ranks ninth among quarterbacks with a 76.0 QBR.
Nick Foles, meanwhile, ranks 29th with a 44.8 mark.
Surprisingly, the Panthers took off once McCaffrey got hurt.
Former Bear Mike Davis has filled in admirably. He's averaging 4.8 yards per carry this season and has 30 receptions, a huge number for a running back.
Davis caught nine balls against the Falcons on Sunday. The Bears, without Tarik Cohen for the season, could use a pass-catching running back like Davis.
Chicago barely used Davis in 2019 after signing him in free agency, so that will be a storyline to monitor.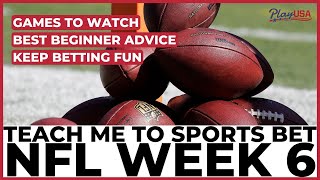 Bears defense got right against Tom Brady
The Bears' defense lived up to its preseason hype in the second half of the Buccaneers game.
That's mainly because Khalil Mack played like his 2018 self. Mack notched three QB hits, two tacks and two tackles-for-loss.
And this neat arm flip.
KHALIL MACK'S STRENGTH IS ABSURD 😤 @FiftyDeuce @ChicagoBears pic.twitter.com/dP7xIWrpVg

— The Checkdown (@thecheckdown) October 9, 2020
In total, the Bears registered eight hits on Brady, which seemed to wear on him as the game progressed.
Kyle Fuller and Jaylon Johnson, meanwhile, have proven to be one of the best cornerback duos in the NFL.
Opponents are completing just 44.7% of their throws against Johnson, and 41.2% against Fuller.
With that said, the Bears' inside linebacker play has been suspect, so they are vulnerable over the middle. That's why Chicago is a good, but not great 10th in passing yards allowed despite its excellent secondary.
The run defense also struggled once again on Thursday, as Danny Trevathan has had 2020 to forget, while Roquan Smith hasn't lived up to expectations.
Ronald Jones ran for 106 yards, and the Bears rank 16th in run defense.
Davis could have a nice game, but once again, a dominant pass rush can mask other weaknesses.
If Mack plays as he did against Tampa Bay, the Bears should feel great about their chances.
But that's a lot to ask.
Matt Nagy rips into offense
The Bears rank 26th in scoring offense and 27th in total offense despite their 4-1 record.
Insert joke about the grass being green here.
On Friday, Nagy ripped into his side of the ball over its Thursday night performance.
''You start wondering about the sloppiness and where things are at and how to get to where we need to go … and the details right now in this offense are not there. So that's our job as coaches to make sure that we get these freakin' details right. It's as simple as that.

"I've never been a part of something [that bad]. So we've got to get that, that, that — that thing there has to get fixed. That's that. Offensively, we've got some stuff to do.''
If the Bears are going to have any success in attacking the Panthers, they will have to emphasize the ground game.
Carolina ranks third in pass defense, but 25th in run defense.
Chicago lost promising young guard James Daniels for the season against the Buccaneers, who wasted no time exposing Alex Bars' replacement.
The Bears had some success running the ball the first three weeks, but that came to an abrupt halt against the Colts and Buccaneers.
David Montgomery has averaged less than three yards per carry over the last two weeks. However, Indy and Tampa Bay each have top-three run defenses.
The Bears' formula for success on Sunday will be a familiar one: get after the opposing quarterback, and run the ball effectively.
Can they do it? We'll see, but expect another close, tense game on Sunday.