The Chicago Bears take on the Detroit Lions in Week 1 of the 2020 NFL season at Ford Field on Sunday.
Here's everything Illinois sports bettors need to know about the game.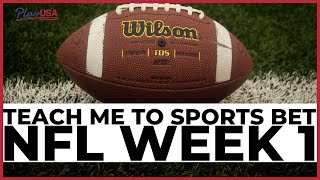 Lions favored, but line inching toward Bears
Here are the lines at the three Illinois online sportsbooks, as of this writing:
DraftKings and BetRivers use the same lines. So, if you have an inkling on this game either way, it would be wise to compare lines to FanDuel's.
The Bears have been +3 at these books for most of the week, but moved to +2.5 on mid-Friday morning.
That's likely because of star Lions receiver Kenny Golladay's status. Golladay was "very limited" in practice on Friday, and there's a real concern that he won't be able to go on Sunday.
Detroit's No. 1 target racked up 65 catches for 1,190 yards and 11 touchdowns in 2019. And given that the Bears are starting second-round rookie Jaylon Johnson at one of their cornerback spots, avoiding Golladay would come as a relief.
Chicago also has injury issues, though, as pass rusher Robert Quinn hasn't practiced all week and is listed as doubtful. Quinn was the Bears' prized free-agent addition this offseason, and he racked up 11.5 sacks in 2019 for the Cowboys.
Khalil Mack and David Montgomery are also listed as questionable, but Montgomery was a full practice participant on Thursday and Friday. Mack practiced in limited fashion throughout the week.
Lions offense was excellent in 2019 with Stafford healthy
The Bears may have won five more games than the Lions last year, but Detroit was a different offense with Matthew Stafford under center.
Stafford only started eight games in 2019 due to a back injury, but he was outstanding by every statistical metric.
He averaged 8.6 yards per pass attempt, second among all quarterbacks, and threw for 19 touchdowns to just five interceptions. The Lions were 3-4-1 when Stafford went down with an injury, and two of those losses came by a combined 5 points to the Chiefs and Packers.
Which means *checks math* that Detroit went 0-8 without Stafford. In the first half of last season, the Lions' offense ranked seventh in the NFL in yards per play.
That explains how a team fresh off a three-win season is favored in Week 1 of the following year.
However, Nagy and Mitchell Trubisky have owned the Lions
Trubisky is an NFL Twitter punchline these days, but he's balled out against the Lions the past two years.
Nagy and Lions head coach Matt Patricia assumed their respective roles before the 2018 season. In 2018 and 2019, the Bears went 4-0 against the Lions.
Trubisky started three of those games, and these were his numbers.
Nov. 11, 2018: 23-for-30, 355 yards, four touchdowns (one rushing), no interceptions
Nov. 10, 2019: 16-for-23, 173 yards, three touchdowns, no interceptions
Nov. 28, 2019: 29-for-38, 338 yards, three touchdowns, one interception
The Lions have been generally bad defensively under Patricia, but his insistence on playing man-to-man coverage works in Trubisky's favor. The former second overall pick has struggled tremendously with reading zone defenses, but Patricia hasn't shown a willingness to adjust his game plan in years past.
We'll see if that changes on Sunday. The Lions hired a new defensive coordinator this offseason in Cory Undlin, but Patricia still has a significant influence on that side of the ball.
The Lions also spent the third overall pick on cornerback Jeff Okudah in an effort to shore up the secondary. But he's not even expected to start for Detroit, and Darius Slay is no longer with the team. So the Lions' back four still looks vulnerable.
DraftKings offering 'First TD Scorer Insurance,' profit boost
DraftKings Sportsbook has a couple of nice perks for Sunday's game.
You can bet on the first player to score a touchdown, and if your choice scores at any point, you will win back the amount you wagered. To profit, your player needs to score the first touchdown.
Right now, Lions receiver Marvin Jones has the shortest odds to score the first touchdown at +600. But his odds to score a touchdown in the game are -106, which makes this an enticing offer.
DraftKings is also dealing a 25% profit boost for every Sunday NFL game, including the Bears-Lions game.
Following opt-in, users will be issued 13 single-use profit boosts. If you win your bet, 25% will be added to your profit.
The maximum bet is $50 for an individual game. There is a $100 limit on additional winnings.
So, right now, if you bet $50 on the Bears +2.5 (-108), you'd normally win $46.50 if they covered. With the boost, you'd win $58.13.