Golf's last major is now second, but it's the first one at Southern Hills in a while. Got that?
The PGA Championship has been played since 1916 and this weekend it comes to the Southern Hills Country Club in Tulsa, Oklahoma. The last time Southern Hills hosted a major was in 2007 when Tiger Woods came out on top.
It's a redesigned course, 7,556 yards that will play as a par 70. It features not one, but two par-5 holes over 600 yards. Woods and Ray Floyd hold the course record with a 63. In the future, any time anyone asks you a golf trivia question, just guess Tiger Woods.
You can bet on all of the PGA Championship action thanks to Illinois sports betting.
Jon Rahm and Scottie Scheffler are co-favorites at +1200 to win the PGA at BetMGM. Justin Thomas and Rory McIlroy are each +1600. Tiger is sitting at +6600.
However, you can't bet on the defending champ. Phil Mickelson is involved in a brouhaha over a Saudi Arabia-backed tour and has gone persona non grata. He won't be playing this year.
While the PGA Championship doesn't have the same gravitas as The Masters or The Open, it has provided several great moments over the years. These are the five best.
1951: Big Samuel Jackson Snead
The PGA was always the nondescript 'fourth' major on the golf calendar. It was played late in the year (it was recently moved to May by the tour to prevent a conflict with their FedEx playoffs) and cycled through the same courses.
When it first started in 1916 it was a match-play-style event. Head to head. That continued until 1958.
1951's event was a 64-man field at Oakmont in Pennsylvania, with the players duking it out over six days. That's a lot of golf. Snead had won the title in 1949 and rolled through the tournament, besting Walter Burkemo 7 and 6 in the finals. Burkemo was a club pro out of Michigan playing in his first PGA Tour event.
What stands out is the amount and quality of golf Snead played. He played 166 holes of match play in 22-under. This weekend's tournament will be 72 holes.
For all that golf, Snead won a tidy $3,500. The format and purses have definitely changed since.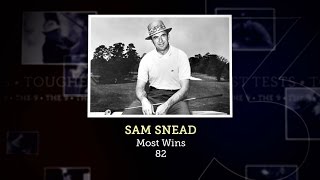 1993: The zinger
Paul Azinger is beloved on the PGA Tour and the 1993 PGA is his lone major title. It came via a playoff win over (who else?) Greg Norman.
Azinger won on the second hole of sudden death when a Norman putt rimmed out. Later that year, he was diagnosed with non-Hodgkin lymphoma, which he fought off and was able to return to the PGA Tour. He came back to captain the United States' winning Ryder Cup team in 2008 and is a popular announcer today.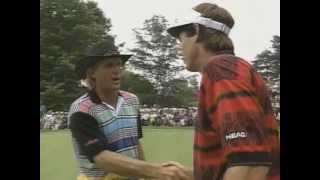 1989: Bear down for Payne Stewart
Payne Stewart was an original on the PGA Tour. He had a unique wardrobe that included ivy caps and short knickerbocker pants. He even had a deal where he'd sport the colors of the local NFL team at events.
So there was Stewart at Kemper Lakes in Illinois, wearing Bears orange and blue, six off the lead at the start of the final round. He fired a back-nine 31 to sweep past Mike "Radar" Reid and earn his first major title.
Stewart would tragically die in a 1999 plane crash when the cabin failed to pressurize. His style and grace were never forgotten.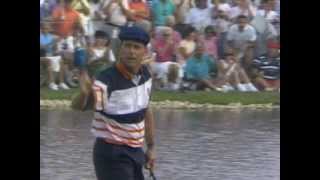 1991: The go big era
30 years later, it still seems made up. John Daly was the PGA Championship's ninth alternate. He had to drive all night from Memphis just to get to Crooked Stick in Indiana to play. Nick Price was the last one to drop off due to the birth of his first child.
Having never played the course before, Daly just let it rip. He was the first of golf's big driver generation, guys who changed the math on tour with their ability to hit the ball so far and straight.
The unknown pro from Arkansas took the lead on Friday morning and never looked back. It was his first tour victory. Daly continues to rip it now on the Senior PGA Tour.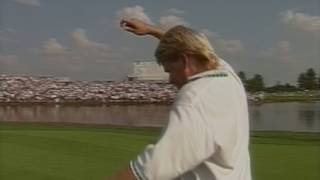 1986: All the Tway
It really might be one of the greatest single golf shots in history. Bob Tway in a chest-high bunker hole on 18 in a tie with Greg Norman. Tway in a green shirt and visor with a deft little chop.
The ball – truth be known – is going too fast, but it hits the flag stick dead center and plops in the cut. Tway jumps, jumps and jumps for joy.
But wait, Norman still has a chance for a tie, but his chip from the fringe has no hope. It was another heartbreaking loss for Norman. For Tway, it was his only major title.