Another defendant in the illegal gambling case involving Casey Urlacher has avoided prison time. And if you've been following the court proceedings, that's been a theme.
Todd Blanken, formerly a main agent for "Uncle Mick Sports," the offshore gambling operation in question, pleaded guilty for his role in the scheme. His sentence? Six months of community confinement and two years of probation.
That was the second of two punishments handed out thus far. Eugene "Geno" Del Giudice, the father of ring leader Vincent Del Giudice, received three months of home detention and a year of probation.
It's worth noting that the elder Del Giudice received a lighter sentence because he is in his 80s and is the primary caregiver for his dying wife.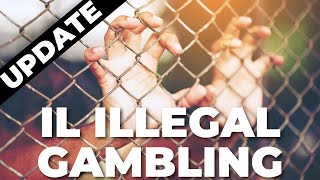 Urlacher pardoned and is now mayor
And, last but not least, we have Casey Urlacher, brother of former Bears legendary linebacker Brian Urlacher. Casey Urlacher also served as an agent in the scheme, and did not receive any punishment.
That's because former President Donald Trump fully pardoned Urlacher in one of his final acts in office. This was the statement on the White House website at the time, which has since been deleted:
"President Trump granted a full pardon to Casey Urlacher. This pardon is supported by his friends and family, and countless members of his community. Mr. Urlacher has been charged with conspiracy to engage in illegal gambling. Throughout his life, Mr. Urlacher has been committed to public service and has consistently given back to his community. Currently, Mr. Urlacher serves as the unpaid Mayor of Mettawa, Illinois. He is a devoted husband to his wife and a loving father to his 17-month-old daughter."
After his pardon, Urlacher won his reelection bid as the mayor of Mettawa.
Will all of the sentencings be this light?
The next sentencings on deck are Matthew "Sweaters" Knight and Nicholas Stella.
Knight has been charged with recruiting new gamblers and collecting debts, while Stella has pleaded guilty to money laundering and working as an agent for the operation.
Stella also has other outstanding legal issues. Prosecutors alleged in January that he violently assaulted his girlfriend and that there have been "repeated domestic batteries."
But based on what we've seen, it doesn't appear that the key players in the Uncle Mick Sports scheme are paying much of a price.
They all have avoided prison time.
It will be especially telling to see what sort of punishment Vincent Del Giudice receives. As the head of the operation, Del Giudice has already pleaded guilty to money laundering and illegal gambling-related charges. No sentencing date has been set.
The gambling ring was allegedly a multi-million dollar business, and feds are seeking a forfeiture of $8 million from Del Giudice. He allegedly paid more than $10,000 per month to run his website.
There are four more men who we haven't mentioned who have yet to be sentenced. Each individual case has its own context and nuances, but based on what we've seen, it doesn't appear that punishments will be too significant.
Will this case discourage illegal operators?
While this case has received plenty of public attention, it doesn't appear that those involved are getting in much trouble.
For those operating in the black market, will this serve as a warning sign to cease operations? One could reasonably argue no, and that the potential reward of not getting caught outweighs the risk of getting caught.
The backdrop here is that legal sports betting is booming in Illinois.
The Land of Lincoln was the No. 2 state in the US by handle in April and May, and Illinoisans have clearly taken a liking to the legal sportsbooks.
But there will always be illegal operators. The key is diminishing the extent to which they are relevant, and strict enforcement is one way to do so.