The Chicago Bears were one of the more disappointing teams in the NFL in 2019, and Illinois sportsbooks expect more of the same in 2020.
The biggest mystery heading into Week 1 was who will start at quarterback.
The Bears chose not to pick up Mitchell Trubisky's fifth-year option this offseason and acquired Nick Foles from the Jaguars. Trubisky won the job, but he will likely be on a short leash.
FanDuel was right in its prediction, listing Trubisky as a -160 favorite to start against the Lions. Foles checks in at +125.
Here are some other noteworthy Bears odds from DraftKings and FanDuel. BetRivers, which is also online in Illinois, doesn't have win totals listed.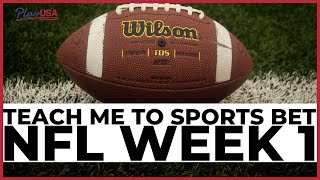 Chicago Bears 2020 odds
Check out the Bears' preseason odds below:
| Sportsbook | OVER Win Total | UNDER Win Total | Super Bowl | NFC Championship | NFC North |
| --- | --- | --- | --- | --- | --- |
| DraftKings | 7.5 (-130) | 7.5 (+107) | +4000 | +2000 | +380 |
| FanDuel | 8 (+110) | 8 (-130) | +4400 | +2100 | +390 |
The Bears are coming off an 8-8 season the year after they shocked the NFL to finish 12-4. The Chicago offense — most glaringly, Trubisky — came crashing down to Earth, finishing 25th in offensive DVOA.
What have the Bears done to fix the offense?
They didn't do much to address an offensive line that struggled in 2019, but they brought in a bevy of new offensive coaches and traded for Foles. Head coach Matt Nagy still hasn't announced a Week 1 starter against the Lions, and says he won't tip his hand.
By all accounts from Bears media members, the competition has been neck-and-neck, thus far, with Trubisky earning a slight edge. Considering his play last season, that's not exactly inspiring.
The Bears' defense looks as scary as usual, finishing eighth in defensive DVOA last season and turbo-charging its pass rush with the addition of Robert Quinn. Quinn notched 11.5 sacks with the Cowboys last season, and forms a scary edge-rushing duo with Khalil Mack.
Nose tackle Eddie Goldman opted out of the season due to COVID-19 concerns, which could hurt the run defense. But as usual, whether or not the Bears exceed expectations will boil down to how the offense performs.
Chicago's 2020 strength of schedule ranks 19th, a breath of fresh air after having to face the first-place schedule last year. With that said, the Bears were slightly lucky, according to Football Outsiders. They finished with 7.4 Pythagorean wins, a projection of a team's expected total based solely on points scored and allowed.
Chicago Bears individual prop futures
DraftKings and FanDuel have also posted some interesting individual futures. First, DraftKings:
MVP: Trubisky (+15,000)
Defensive Player of the Year: Mack (+1,400)
Defensive Player of the Year: Akiem Hicks (+15,000)
Comeback Player of the Year: Trubisky (+6,600)
Head Coach of the Year: Nagy (+3,300)
Receiving yards: Anthony Miller over 675.5 (-110)
And now, FanDuel:
MVP: Trubisky (+10,000)
MVP: Mack (+25,000)
Defensive Player of the Year: Mack (+1,100)
Defensive Player of the Year: Hicks (+20,000)
Head Coach of the Year: Nagy (+3,400)
Receiving yards: Allen Robinson over 999.5 (-110)
The Lions are 3-point favorites over the Bears for Week 1 at DraftKings. But at FanDuel, Illinois sports bettors can "super boost" the line to +12.5 at +100 juice. DraftKings, not to be outdone, is dealing Chiefs +101 in Week 1 against the Texans.
Yes, the mobile registration period has been kind to Illinois bettors.
2020 schedule
Here is the Bears' full 2020 slate:
| Week | Opponent | Result | Time, TV |
| --- | --- | --- | --- |
| Week 1 | at Lions | W, 27-23 | Noon CST, FOX |
| Week 2 | vs. Giants | W, 17-13 | Noon CST, CBS |
| Week 3 | at Falcons | W, 30-26 | Noon CST, FOX |
| Week 4 | vs. Colts | L, 19-11 | Noon CST, CBS |
| Week 5 | vs. Buccaneers | W, 20-19 | 7:20 p.m. CST, FOX |
| Week 6 | at Panthers | W, 23-16 | Noon CT, FOX |
| Week 7 | at Rams | L, 24-10 | 7:15 p.m. CST, ESPN |
| Week 8 | vs. Saints | L, 26-23 (OT) | 3:25 p.m. CST, FOX |
| Week 9 | at Titans | L, 24-17 | Noon CST, FOX |
| Week 10 | vs. Vikings | L, 19-13 | 7:15 p.m. CST, ESPN |
| Week 11 | BYE | BYE | |
| Week 12 | at Packers | L, 41-25 | 7:20 p.m. CST, NBC |
| Week 13 | vs. Lions | L, 34-30 | Noon CST, FOX |
| Week 14 | vs. Texans | W, 36-7 | Noon CST, CBS |
| Week 15 | at Vikings | W, 33-27 | Noon CST, FOX |
| Week 16 | at Jaguars | W, 41-17 | Noon CST, FOX |
| Week 17 | vs. Packers | L, 35-16 | Noon CST, FOX |