DraftKings is a powerful player in the sports betting industry in every state it operates. The extent of its prowess in Illinois remains to be seen, however.
As of Wednesday, Aug. 5, DraftKings Sportsbook is live and accepting in-person and online wagers in Illinois. There are some elements of irony to DraftKings' story in the Prairie State.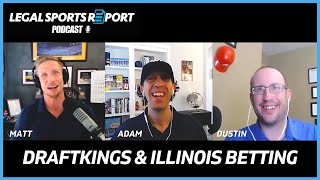 How new customers can bet at DraftKings Illinois
DraftKings Illinois is now accepting online wagers. However, signing up for DraftKings Sportsbook isn't as simple as downloading the DraftKings mobile app or logging onto the website.
That isn't DraftKings' fault, entirely, anyway.
Illinois law requires new account holders to complete their registrations for online wagering in person. In theory, to place bets online, you'll have to first visit the brick-and-mortar sportsbook at the Casino Queen in East St. Louis.
DraftKings does deserve some of the blame for why that tenet of the law exists.
The state government intended it as a "penalty box" for DraftKings' decision to ignore a 2015 IL attorney general's opinion that its daily fantasy games constituted illegal gambling.
That will eventually expire, but it will likely take the better part of two years. One of the points of irony is that for Illinois sports bettors who live in places like Chicagoland and the Quad Cities, it could prove easier to continue current habits than to switch things up.
Why some IL DraftKings customers might still bet in other states
Existing DraftKings Sportsbook customers who have been using the wagering platform in Indiana and Iowa are included in the in-person registration mandate.
To place bets on DraftKings' app/website in IL, you have to visit the Casino Queen regardless of whether you have an existing account with the sportsbook in another state.
If you're in Chicago, that means a nearly five-hour drive one way. If you're in Rock Island, that's about a four-hour trip in a car both ways.
While it's a one-time trip, there are more convenient options.
Bettors in the greater Chicago area can continue to cross the state line into the Hoosier State and conduct all their wagering with DraftKings there. The same goes for Illinoisans in the northwest part of the state, near the Iowa border.
Iowa also has an in-person registration requirement, but there is a retail DraftKings Sportsbook at Wild Rose Casino in Clinton, IA. For Rock Islanders, that's a significantly shorter drive.
Once you register, you can do everything you need to do on the Iowa side of the Mississippi River. Additionally, Iowa's in-person registration mandate expires on Jan. 1, 2021. At that time, the same requirement will still be in effect in Illinois.
For IL's state coffers, that would mean potential tax dollars instead become more revenue for IA and IN. In that way, the penalty box may have a more significant effect on the Illinois government than on DraftKings.
Isolating the story to just DraftKings Illinois, there is still great potential for the brand to do well given the circumstances. The St. Louis region isn't a bad place to get started.
Why it isn't all doom and gloom for DraftKings in the Land of Lincoln
The greater St. Louis area is also one of the densest population centers in the Midwest. Missouri has yet to legalize sports betting, so it's fair for DraftKings to expect to pull a lot of action from across the river.
Wherever DraftKings goes, it brings not only its brand recognition but its marketing capital. It's one of the few gambling companies that can afford to operate at a loss to gain market share, which is up for grabs in IL.
Currently, the only online competition is BetRivers Illinois. While PointsBet and William Hill may not be far behind, both of the brick-and-mortar components to those online books are in the greater Chicago area, just like Rivers Casino.
Meanwhile, DraftKings has the St. Louis metro area to itself. It's more likely to pull new customers from places like Bloomington, Peoria and Springfield.
DraftKings' launch in Illinois is an exciting development for Illinois sports betting in the state.
How far the brand goes in the market is a complicated thing to predict for several reasons, but there's a path to become the dominant operator.