What Is Moneyline Betting?
Choices abound on the Illinois sports betting menu. In fact, with so much to consider, it's not uncommon for those new to the game to feel a bit overwhelmed. However, there's also a way to keep betting simple.
Enter the moneyline bet. For this popular wager type, you only have to pick which side you think will win. There are no extra points to worry about or any other complex scenarios to consider. The moneyline is all about the bottom line: which side will win.
While basic in nature, there are also some concepts you need to know to bet on the moneyline successfully. Our complete guide to moneyline betting in Illinois will cover all the facets of this basic bet type.
What is a moneyline bet?
The moneyline bet is one of the most popular wager types available at online and retail sportsbooks in Illinois. For team-based sports such as NFL and NBA, you'll find it in the main game listing alongside the point spread and total.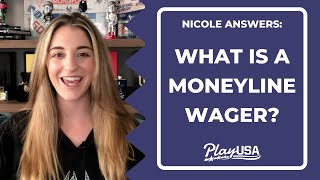 In individual sports such as golf and tennis, you'll find the moneyline available at various head-to-head matchups. Whenever the moneyline is provided, the choice for bettors is simple. However, that doesn't mean winning the bet will be.
When placing a moneyline bet, all you are doing is picking which side you think will come out on top. Odds will be listed on both sides to clearly show the favorite and the underdog in the matchup. We'll walk through how the lines work on the moneyline in a bit.
How to bet the moneyline
For a quick example, let's consider a standard game listing for an NFL contest, which looks something like this:
Chicago Bears          +5.5 (-110)      +215                O 45.5 (-110)
Los Angeles Rams   -5.5 (-110)       -260                 U 45.5 (-110)
From left to right, the numbers next to the two team names are the odds for the three main bet types: point spread, moneyline and total. To place a bet on the moneyline, we have to decide if we like the Rams at odds of -260 or the Bears at +215.
Once we have made our choice, we need to click on the box with the corresponding odds. The wager will be added to the betting slip. From there, we have to add in our wager amount, verify that everything is correct and click submit to place the bet.
Online moneyline betting rules in Illinois
You'll find that most online betting rules for moneyline wagers are standard across the industry, but there may be some anomalies here and there that you have to consider. Here are the main points to know:
Moneyline bets are live as soon as the game or contest gets underway.
Most bets will be based on the completion of the game, including any extra time needed to finish. However, some may revolve around regulation time only. The operator will clearly list the bet, so give it a once-over to make sure you have what you want.
In the event that a contest is delayed after beginning, the moneyline bet will still be considered live as long as it's completed within a reasonable timeframe, such as 24-48 hours.
When events are completely canceled or postponed to a date in the future, the moneyline bet will be considered void and wagers will be refunded.
That covers the important stuff, but we once again stress that certain books may have some quirks in the house rules here and there. It's always good practice to review the terms and conditions at the sportsbooks.
How to read moneyline odds
For an example of how moneyline bets work, let's consider the odds for an MLB game. Moneyline is one of the most popular ways to bet on baseball. Odds will be listed for each game on the docket and will look something like this:
Tampa Bay Rays +130
Los Angeles Dodgers -150
In this matchup, the Dodgers are the favorite to win the game. We know that because the odds on that side are negative. For the moneyline, negative odds are assigned to favorites, while it's positive numbers on the underdog side.
If the numbers are far apart, then the oddsmakers are pointing to a paper mismatch. When the odds are super tight, then the bookmaker envisions a game that's close to being a toss-up.
Why do moneyline odds move?
Moneyline odds are released well in advance of the events. For a sport that regularly plays, such as NBA or NHL, odds come out the night before or no later than the day of the game. The odds will come out several days in advance for sports that are played less frequently, like the NFL.
After the initial release, it's not uncommon to see some movement in the numbers. Once the public starts weighing in, a clear preference may emerge. To even out the action as best as they can, sportsbooks may adjust the lines.
Based on that, moneyline odds won't always be the same at every operator. For example, DraftKings IL might be offering moneyline odds of -150 on the Bears, while FanDuel IL could be at -140 for the same game.
Those small ticks of difference can add up to a lot throughout the season. Remember that you can shop around to find the most appealing betting prices. Our live odds feed tracks the latest numbers at multiple legal books, so check back often.
Calculating returns on moneyline bets
Moneyline odds don't only tell you which side is favored to win. You can also quickly figure out what the potential return would be for winning bets. For an example, let's consider the odds for this fictitious NBA matchup:
Los Angeles Clippers -220
Chicago Bulls +250
When odds are negative, as they are on the side of the Clippers, the moneyline number tells us how much we would need to wager to see a return of $100. In this case, a $220 bet that's a winner returns a profit of $100.
On the underdog Bulls side, the odds tell us how much we would get back for a winning $100 bet. If we bet $100 on Chicago and they go on to win the game, we're looking at a return of $250 coming back our way.
That's the quick and easy way to figure it out, but there are also some formulas that you can use. When the odds are negative, we have to work through the following.
Bet Amount/(Odds/100) = Profit
Starting inside the parentheses, we find the result of the odds divided by 100. The bet amount is then divided by that result to determine our potential return.
For positive odds, the formula gets shifted around a bit.
Bet Amount * (Odds/100) = Profit
We still take the odds and divide by 100, but for positive odds, we then multiply that result by the stake of the bet to find our potential profit.
You can also easily see the potential return by adding a moneyline bet to the slip. Once you plug in a bet amount, the sportsbook displays the potential return, but be careful not to click submit before you are ready.
It's a good idea to understand the math anyway, as you'll get to the point where you can quickly spot value opportunities in moneyline odds by scrolling through the listings.
Moneyline betting examples
To fully understand moneyline odds and payouts, let's walk through some examples for each of the major sports.
NFL moneyline betting
Moneyline is one of the main bet types for NFL games, right along with point spreads and totals:
Minnesota Vikings +150
Green Bay Packers -175
The Packers are decent favorites for this matchup. A winning $100 bet on that side at odds of -175 would return a profit of $57.10. For those who cash winning tickets on the Vikings at +150, they're looking at $150 coming back on a $100 bet.
NBA moneyline betting
NBA betting also revolves around spreads and totals, with moneyline thrown into the mix:
Houston Rockets +120
Boston Celtics -140
The moneyline is a little tighter on this one, with the Celtics favored over the Rockets. If you place a $100 bet on the underdog at odds of +120 and the Rockets go on to win, the return is $120. A winning $100 bet on the Celtics at -140 would bring back a profit of $71.40.
MLB moneyline betting
Moneyline is perhaps the most popular way to bet on MLB, right ahead of the run line and totals:
Milwaukee Brewers +115
Chicago Cubs -105
Odds that are this tight will point to a potentially close game. A winning $100 bet on the underdog Brewers at odds of +115 will return a profit of $115. If you bet $100 on the favored Cubs and they go on to win, odds of -105 means a return of $95.20.
NHL moneyline betting
NHL betting also leans toward moneyline betting, but goal line and totals bets are also available:
A big range between the numbers indicates a potential mismatch. The Blackhawks are big favorites here with a $100 bet at -220 offering a chance to get $45.50 back. If you bet $100 on the underdog Senators and they win, odds of +180 means that $180 is coming your way.
NCAA football moneyline betting
College football spreads and totals get lots of attention, but there's also value to be found on the moneyline:
Purdue +280
Notre Dame -360
There can be some big spreads on college football moneylines. In this case, the Fighting Irish are sizable favorites, so a winning $100 bet means a profit of $27.80. If Purdue manages to pull off the upset at odds of +280, winning $100 bets would bring back $280.
NCAA basketball moneyline betting
It's a similar story with college basketball: spreads and totals may get more coverage, but opportunities also abound on the moneyline:
A potentially close game such as this one could mean a nice return on either side. For $100 Loyola Chicago bettors, odds of -125 means that winners return $80. Bettors on the side of underdog Illinois at odds of +105 would get back $105 on $100 winning bets.
MLS moneyline betting
Soccer often skews toward the moneyline but spread and totals bets are also quite popular:
Chicago Fire +115
New York Red Bulls -135
Many soccer moneyline bets will also include the option to choose a tie, so keep an eye out. If you bet on the favored Red Bulls, winning $100 bets return $74.10. A $100 winning bet on the underdog Fire at odds of +115 translates into a return of $115.
Golf moneyline betting
As tournaments play out, sportsbooks put together head-to-head matchups, which are based on the moneyline:
Phil Mickelson +125
Tiger Woods -115
Head-to-head golf bets continue to grow in popularity, right along with the PGA Tour. If Mickelson scores better for this matchup at odds of +125, then $100 bettors get back $125. A $100 winning bet on Woods at -115 means that $87 is coming back.
Tennis moneyline betting
For each matchup during a tennis tournament on both the men's and women's sides, sportsbooks will release moneyline odds:
Rafael Nadal +100
Novak Djokovic -105
In the early rounds of tennis tournaments, there can be lots of mismatches, but odds will usually tighten later on in the event. For this match, a winning $100 bet on Nadal at +100 equals a return of $105, while the same amount on Djokovic to win at -105 brings back $95.20.
NASCAR moneyline betting
The moneyline is also used for NASCAR head-to-head matchups during the races:
Ryan Blaney +190
Kevin Harvick -240
There are dozens of drivers scheduled to compete at the average NASCAR race, and sportsbooks will make some pairings out of the field of competitors. For this one, a winning $100 bet on Blaney returns $190. Meanwhile, a $100 winning bet on Harvick would equal $41.70 coming back.
UFC moneyline betting
Each time there's a UFC card, you'll find moneyline odds on the winner of each of the matches:
Justin Gaethje +260
Khabib Nurmagomedov -340
Some of the matches will have solid value on both sides, while others may have clear-cut favorites, like this one. If you bet $100 on the favored Nurmagomedov and he goes on to win, $29.40 is coming back. If Gaethje pulls out the upset, $260 is returned on $100 wagers.
How to handicap moneyline bets
Overall, moneyline bets are simple in nature. They make for a good starting point for those new to sports betting. However, that doesn't mean that it will be easy to cash tickets. Upsets happen, and wagers that seem like a sure bet can sometimes not pan out.
That comes with the territory with sports betting, so be prepared. When looking to place moneyline bets on the outcome of a game or event, the goal is to find the side you feel has the best chance to win. Here are some tips to use as you work towards making that happen:
Realistically Assess Strengths and Weaknesses: You'll want to see if one side has a clear advantage over the other. For the NFL, one side may have a great rushing attack while the other side can't stop the run. In tennis, one player may have a great track record at the current venue while the other doesn't. Finding these little edges can help you to boost confidence in your decisions.
Examine Historical Matchups and Common Opponents: When teams and players face off often, they leave behind plenty of data to assess how events went. Those who don't cross paths that much may have faced off with some familiar foes. The past is no guarantee of what's to come, but it can provide clues on how it might play out.
Lean Toward Recent Form the Over Season to Date: Regardless of the sport, the season can be a grind. Athletes will go through peaks and valleys, so you'll need to know the current lay of the land. Those who are on a good run may be in a position to continue, while those who are struggling may do the same. Little pieces of intel like this can also help to point out potential upsets.
Handicapping can help you get closer to your goals, but there are also some potential pitfalls to watch out for along the way. Here are a handful to avoid:
Always Bet on Favorites or Underdogs: Yep, some people do this. The apparent theory is that favorites win a lot, so they'll come out ahead, while underdog bettors think big scores make up for losses along the way. When betting on the moneyline, pick the winner and decide if it's worth betting on or not. That's it.
Bet with a Rooting Interest: We all have favorite teams and players, as well as events we would like to see; however, it doesn't mean we have to bet on them. In fact, betting with your heart instead of your head can be a longterm recipe for disaster. If you can't leave rooting interest at the door, take a pass.
Chasing Losses to Get Even: Losses are going to happen in sports betting. The best course of action is to assess where you may have gone wrong, learn from it and move on to the next opportunity. If you approach losses with a vengeance and feel that you're "due" to get even, you could be in for a rude awakening.
What to remember about moneyline betting
The moneyline bet is one of the featured offerings at online and mobile sportsbooks. It's a basic bet in which you have to pick the winner. The odds board points you toward the favored outcome and what the potential return would be for winning bets.
While basic in nature, the moneyline shouldn't be confused for an easy-money wager. It's not. The same handicapping principles apply here as with any other bet: Do your homework and make the best decision you can.