The 2021 Tokyo Olympics are scheduled to begin on Friday, July 23. And provided all is clear from a public health standpoint, you will be able to bet on the Olympics at Illinois sportsbooks.
However, on Wednesday, we learned that Tokyo is in a state of emergency due to COVID-19:
The Olympics may still be held, but without fans. PlayIllinois will keep you posted on the latest developments.
Bet on the Olympics in Illinois
The Illinois Gaming Board (IGB) approved Olympic betting in May, so if the summer games happen, folks in Illinois will be able to bet on them. The COVID-19 pandemic caused last year's festivities to be canceled.
This is the first time that sports betting is legal in Illinois for the Olympic games. It will be fascinating to see how much Illinoisans take a liking to Olympic betting.
Here are some of the events that you'll be able to bet on in Illinois. Note that this is not an exhaustive list, and more markets should become available once we get closer to the opening ceremonies.
New Users Get $365 Bonus at Bet365
Bet $1, Get $365 Win or Lose
Sign Up, Deposit and Play Today in VA!

Gambling Problem? Call or TEXT 1-800-Gambler 21+

To Claim: Click Play Now
Olympic events you can bet on in Illinois
Illinois has six online sportsbooks: DraftKings, FanDuel, BetRivers, PointsBet, Barstool and Caesars. Here are some of the events and markets you can already bet on at sportsbooks in Illinois:
Most gold medals by country
Most medals by country
Women's team basketball
Women's 3×3 basketball
Men's team basketball
Men's 3×3 basketball
Women's water polo
Men's baseball
Men's water polo
Women's volleyball
Men's volleyball
Women's soccer
Men's soccer
Women's rugby
Men's rugby
Women's handball
Men's handball
Women's golf
Men's golf
Men's pole vault
Women's field hockey
Men's field hockey
Men's 100 meter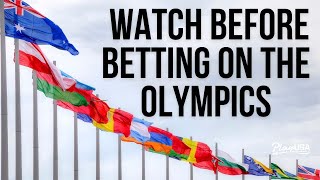 As of now, the DraftKings app has the most robust offering of sports. Individual game lines are not yet available, though for certain sports, they should be closer to the events.
For now, the most common bet is the gold medal winner for a given sport.
Speaking of which, the USA is the favorite to win the Olympics. Here are the odds for most gold medals at DraftKings:
USA: -1,200
China: +600
Japan: +2,500
Great Britain: +2,500
Russia: +2,500
Germany: +20,000
Australia: +20,000
Netherlands: +20,000
France: +25,000
South Korea: +50,000
Canada: +50,000
Can Olympic betting raise July and August handle?
Illinois registered $507.2 million in May sports betting handle, the most recent report the IGB has released. While that was good for the No. 2 mark in the US for the month, it was also the second straight report where the handle decreased.
The period between March Madness and football is considered the "offseason" for sports betting. While there are things to bet on, they typically don't draw as much wagering interest as March Madness, the NFL and college football.
However, Olympic betting could help juice the Illinois market for July and August. But we are in uncharted territory here, as sports betting has never been legal in IL for the Olympics.
In the last two months, basketball and baseball have been the most popular sports to bet on in Illinois. That could remain the case in July, because in addition to betting on the Bucks vs. the Suns, you can also bet on Team USA (-750) to take home the men's basketball gold medal.