Rapper Waka Flocka Flame will portray one of Chicago's most notorious gambling kingpins in a new biopic. Reportedly, Flame has been tabbed to play the role of John "Mushmouth" Johnson.
The Nilsen Report first announced a movie was in the works about the life of Johnson, Chicago's Black Gambling King, and that Flame would play the starring role.
Johnson had a fascinating life, as chronicled by Robyn McNeil for PlayIllinois in part 4 of her six-part series on the history of gambling in Illinois.
Director R. Michael Givens and writer Eugene Patterson III are reported to be leading the production. Not much else has been announced, yet, about when and where the movie might appear. But the Nilsen Report said the film, "aims to explore themes of power, resilience, and social dynamics, shedding light on the complex world in which 'Mushmouth' Johnson thrived."
Despite facing hatred, racism and fierce opposition from Chicago's biggest gambling bosses, Johnson rose to power in the Illinois gambling underworld in the late 19th century. He had a reputation as a Robin Hood of his day for taking the proceeds of crime and distributing them in Chicago's black community.
Mushmouth had major mojo
Notably, Johnson operated a gambling enterprise called The Emporium on Chicago's South State Stree from 1890 until his death in 1907.
As McNeil wrote:
"By all accounts, The Emporium was a sight to behold. The three-story venue reflected the decade's popular Gay Nineties style, adorned with ornate chandeliers and a bar crafted from Honduran mahogany.

"True to that style, Johnson's Emporium offered three levels of entertainment. Billiards ruled the first floor, with craps and roulette sharing the stage on the second. On the third, poker provided the draw, while whiskey, gin, and beer were the favored offerings at the bar.

"At the time, South State Street, also known as Whiskey Row, was infamous due to antics like Mickey Finn's drug-fuelled robberies of customers at the Lone Star Saloon. Despite this, Johnson's spot earned relatively high esteem."
Johnson made his fortune with The Emporium, real estate and policy
Other than The Emporium, Johnson is said to have made his fortune mostly in real estate and through a popular lottery-style game called policy.
Notably, bets could be as low as a penny, with potential payouts as high as 100-1.
As McNeil wrote, "While some viewed the game as parasitic, others say it played a vital role in advancing black society… Many jobs were required to keep the game afloat, and policy subsidized countless businesses and institutions in the community: Black hospitals, black banks, black insurance companies, black mom-and-pop grocery stores, black political careers, and law careers."
Policy offered people with little wealth or formal education the chance for success.
From Muppet to Mushmouth
Flame has had some minor acting roles over the years, but he's best known as a rapper.
Born Juaquin James Malphur in Queens, New York, Flame grew up in Atlanta.
Allegedly, he earned his name Waka from his cousin. It was taken from the "Wocka Wocka" catchphrase used by Muppets character Fozzie Bear.
The name "Flocka Flame" was given to him by rapper Gucci Mane, who was previously managed by Flame's mother, Debra Antney, the CEO of Mizay Entertainment.
Flame has had seven songs hit the Billboard 100 charts. The highest was No Hands, which reached number 13 in 2011.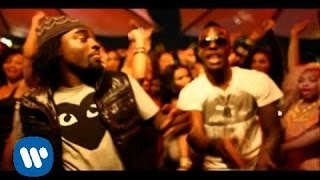 His other charting songs were:
O Let's Do It (#62 in 2010)
I Don't Really Care (#64 in 2012)
Get Low (#72 in 2012)
Grove St. Party (#74 in 2011)
Round Of Applause (#86 in 2011)
Wild Boy (#98 in 2012)
Flame also remembered for 2016 presidential run with Ric Flair
Flame was shot in the arm while struggling with a robber at a car wash in Atlanta in 2010.
Also, he attempted to run for president in 2016, despite being 30 at the time. The minimum age to be president is 35. His running mate was former pro wrestler Ric Flair.
Though he was ineligible at the time to be the leader of the free world, Flame's platform included:
legalizing marijuana
raising minimum wage to $15/hour
creating better trade opportunities for students
banning dogs from restaurants
making it illegal for people with shoe sizes above 13 to walk on the street