The Chicago Bears hosting the Detroit Lions on Sunday isn't exactly the biggest game on the NFL slate. But it's a good chance for us at PlayIllinois to talk with our website brother, PlayMichigan, and hear the latest on the Michigan team.
We checked in with Matt Schoch, lead writer at PlayMichigan, to discuss the state of Chicago sports compared with Detroit, where rebuilds are aplenty.
PlayIllinois also continued our discussion at PlayMichigan, where we broke down the sports betting comparisons between Michigan and Illinois. We found that the Illinois sports betting industry could learn a thing or two from Michigan's.
More>>>Next Bears Game Odds: Line Moves Toward Lions
However, on the field, it's a different story altogether. Let's get into it.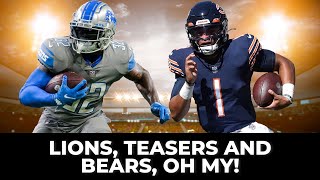 Lions vs. Chicago Bears fans
Matt Schoch, PlayMichigan: What's the mood over there with the Bears? I used to live in Chicago, so it was strange for me to witness a fan base that actually likes their team. Like, "Oh, you guys are not doing this whole NFL fandom thing ironically."
Joe Boozell, PlayIllinois: The mood with the Bears right now is quite negative. Everyone wants Matt Nagy gone and Ryan Pace, too. In general, people still love Justin Fields and don't blame him for the brutal offensive showing against the Browns.
More>>>Justin Fields odds watch
Nagy has had five starting quarterbacks with the Bears if you count Chase Daniel. They've all been bad, and there is a common denominator, the "offensive guru" coach. There's serious concern that Nagy will ruin Fields with his inability to mold his offensive scheme to his talent.
The one time the offense showed some life was late last year when Bill Lazor was calling plays instead of Nagy. But Nagy is calling plays again.
I think, in general, people here get very high and very low with the Bears. I think this is even true of the media. They'll blast the Bears when they put forth performances like Sunday but will be over the moon and think all of the problems are fixed if they torch the Lions.
What's the mood over in Detroit? Brutal losses for both teams Sunday, obviously, but unfolded much differently.
Taking Detroit's temperature
Schoch: Oh, we always count Lions legend Chase Daniel over here. Gotta love the 'Coach Is About To Get Fired Season.' We know it well. Good thing we're still a year away from that here.
We like Dan Campbell and are rooting for him. We also know it's not going to work, and we feel bad for him because of that. Seems like a cool dude, unlike Matt Patricia, who was unlikeable while being terrible at his job.
So … upgrade?
But knowing you're entering a rebuild is a bit freeing though, honestly. It's now all four teams officially rebuilding, so we're comfortable with it. Sure, fans will rightfully bemoan the "Only the Lions … " narrative after the Justin Tucker kick and missed delay of game penalty, but it's mostly performative.
We know this team sucks and that a Week 3 loss to Baltimore is meaningless and ultimately beneficial to draft position. Hope has to be alive once before it can die. That's not the case here. The Lions have like three-seven good players, including the punter, and that's just not nearly enough.
Speaking of rebuilds, we've got White Sox and Tigers across the street at Comerica Park as I type this. You think the Sox have a run in them this year?
Any of these young Tigers catching your eye as a potential future thorn in the side?
Thoughts on the Sox playoff run
Boozell: Certainly hope the Sox have a playoff run in them this year. Super-talented on paper, if they put it all together at the right time they can definitely win it.
Unfortunately, we haven't seen that consistently this year. At the same time, we haven't consistently seen them healthy; we will in the playoffs.
The betting odds are more optimistic on the Sox than the standings indicate, which is interesting. And points to how good they can be if all the parts are clicking.
The road in the AL is really tough, and the Sox will be on the road throughout (They are much better at home and have generally bumslayed all year, which is a bit concerning). A best-of-five series with the first two at Houston is a scary, scary thought. Even if the trash cans are quiet.
Final Sox thought: I also get nauseous whenever Craig Kimbrel comes into the game. I will say this, I also get scared whenever Akil Baddoo comes to the plate for the Tigers when they're playing the Sox. And, whenever I watch Tarik Skubal pitch, he pitches well.
Greatest sports rivalries
Schoch: (Akil) Baddoo has been a great find for the Tigers; have to give them credit there. There's some great top-level talent in the system now with Spencer Torkelson and Riley Greene, but really no depth at all. Those guys pretty much have to be good, as well as Casey Mize and Skubal, for the rebuild to come together as planned. If the Tigers spend, though, next year could be fun to be decent or possibly better than decent.
Was nice to see the Blackhawks in Detroit more this past season, a few nice rookies there. But I miss spring playoff meetings with Chicago and Detroit in the NHL and NBA. There have been some battles.
I know different sports have different rivalries — the St. Louis Cardinals and Green Bay Packers come to mind as hated Chicago foes — but would you characterize Detroit as Chicago's biggest city-wide sports rival?
Or do we just feel that way about Chicago here because of a Midwest inferiority complex? I know you guys like to always to remind us that "Detroit sucks!" In that exceedingly clever chant.
Boozell: Your instinct is right; in general, I'd say Detroit is Chicago's biggest sports rival.
It helps that there's at least some sort of rivalry in every major sport: Bears-Lions, Bulls-Pistons, White Sox-Tigers and obviously, Blackhawks-Red Wings.
Minneapolis also comes to mind, but there is no semblance of an NBA or NHL rivalry there. Same with Milwaukee/Green Bay, even if I'd say Bears-Packers and Cubs-Cardinals are the two biggest individual rivalries for Chicago teams.
Speaking of Bulls-Pistons, what are people in your neck of the woods thinking of Cade (Cunningham)? I'm not sure how good either team will be, but I'm guessing their matchups should at least be more intriguing than last year.
Schoch: So I think I've settled into more moderate expectations for Cunningham. It's a win for the Pistons to get him, no doubt, and I think he'll be a good player for a long time.
I think something to keep in mind when watching Cunningham film and Evan Mobley too is that college basketball just isn't very good right now. Sure, those guys had great seasons, but that doesn't mean they are surefire superstars or anything.
Just like pundits like myself may have overreacted about how bad the top of the NBA Draft was last year, they may have done the same about how good it was this year. It's a slow build for the Pistons; they won't be good this year by any stretch. But they're moving in the right direction for sure and will need to keep bringing in the right type of players, which I believe they will.
Boozell: Yep, I get all of that. As for the Bulls, I think they might be the most high-variance team in the league.
I could see a scenario where all of the parts click; they have one of the best offenses in the NBA, the defense is good enough and they finish with a top-four seed in the East.
I could also see the defense being a disaster, the offense not maximizing its parts and them being something like a play-in team. The truth will likely be somewhere in the middle, but that makes them tough to wager on heading into the season.
Speaking of wagering, how is the sports betting market unfolding in Michigan?
Click over to PlayMichigan to check out the other half of our discussion, which focuses on the respective sports betting scenes for Michigan and Illinois, how online casinos are going over there, and the Chicago and Detroit teams most likely to win a championship next.
Matt Schoch of PlayMichigan contributed to this report.