Illinois sports bettors will likely have another prominent option available in time for the NFL season.
That would be FanDuel Sportsbook, which will partner with Par-A-Dice Casino in East Peoria. Par-A-Dice filed its "go-live" paperwork to the Illinois Gaming Board (IGB) on Aug. 19.
The IGB has been taking around two to three weeks to approve such requests, and the Houston Texans and Kansas City Chiefs kick off the NFL season on Sept. 10.
That's just more than three weeks after Aug. 19.
Why FanDuel addition is good news for Illinois bettors
FanDuel is an industry giant, and the more options for Illinois sports betting, the better.
But that's especially true based on Illinois' current makeup.
As of now, there are only two live mobile books in the Land of Lincoln: BetRivers and DraftKings. Both use Kambi odds.
FanDuel doesn't, so it's a welcomed addition for any sports bettor in Illinois looking to shop for the best lines.
This expands beyond mobile, too. Right now, there are six retail books in the state.
Five of them use Kambi odds.
PointsBet, which could also go live in Illinois soon, uses its own odds. But as of now, Illinois bettors looking to search for the best prices are essentially out of luck.
Mobile registration in place until at least Sept. 19
There's been no shortage of Illinois sports betting news over the last few months.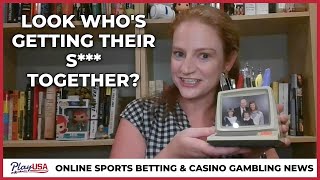 Here's a summary to get you caught up:
The key question now: What happens on (and after) Sept. 19?
The answer will likely determine how FanDuel fares in Illinois, at least to start. BetRivers has been live for the longest during the mobile registration period, and DraftKings at Casino Queen will have almost a month, at minimum, to capitalize.
So, the IGB's timing may be crucial for FanDuel. Whether Par-A-Dice is approved in two or three weeks may not seem like a big deal at first glance, but with the Sept. 19 date looming, every day counts.
For what it's worth, Illinois recorded its highest COVID-19 case count on Aug. 22 since late May. Pritzker has recently tightened coronavirus restrictions for Metro East (Region 4) and Northeastern Illinois (Region 7) casinos.
The restrictions are based on regional positivity rates. Region 7 casinos will be limited to 25% capacity until Sept. 9 at the earliest, while Region 4 casinos will have the same restrictions until at least Sept. 15.
Region 4 precautions originally went into effect on Aug. 18 and have been renewed, per the IGB website.
DraftKings at Casino Queen and Argosy Casino Alton are located in Region 4, while Hollywood Casino Joliet and Harrah's Casino Joliet are in Region 7.
FanDuel going with Par-A-Dice a surprise
It had been floated for months that FanDuel would avoid the penalty box by purchasing Fairmount Park Racetrack in Collinsville.
That still might happen — the IGB allows for operators to partner with multiple retail locations.
But Par-A-Dice represented FanDuel's quickest chance to go live based on FD's existing partnership with Boyd Gaming, the parent company of the casino.
FanDuel performing well in neighboring Indiana
Indiana recently passed the $1 billion mark in sports betting handle, and FanDuel has been a key player in the Hoosier State.
In July, Indiana recorded $64,381,626 in online handle. FD Sportsbook accounted for $24,222,577 (about 38%) of the total figure.
Only DraftKings posted a higher market share.
FanDuel will likely be third to the Illinois mobile market, but in a state where there is plenty of betting interest, it's in a desirable spot.