John Amabile, a former Chicago area police officer, will serve six months of home detention for his role in the Uncle Mick Sports gambling ring.
Amabile worked as an agent in the scheme and admitted he was "100 percent guilty." Uncle Mick Sports was a multi-million dollar gambling operation that involved Casey Urlacher and several others.
However, Amabile added that he was "bothered" by his portrayal as a predator. Assistant U.S. Attorney Terry Kinney wanted Amabile to go to prison for a year.
Amabile is the younger brother of Joe Amabile, better known as "Grocery Store Joe" from "The Bachelorette" franchise.
The younger Amabile worked closely with Gregory Paloian, who received a 2.5-year prison sentence in April. Amabile and Paloian would split wins and losses 50/50. The former recruited bettors for Uncle Mick Sports.
Paloian has alleged mob ties, as did Amabile's grandfather. Defense attorney George Becker, though, took exception to the prosecution's effort to tie the operation to organized crime, writing in a memo:
"Having a last name that ends in a vowel does not mean John Amabile was or is associated with the mob. In this case there is no evidence of John Amabile ever threatening gamblers who lost money, much less hired or used thugs to collect money."
Amabile resigned from his role as a police officer in November. U.S. District Judge Martha Pacold called police corruption "incredibly dangerous."
Another former Chicago area police officer, Nicholas Stella, received a 15-month prison sentence for his role in the operation. Stella had other disturbing legal issues, however, unlike Amabile.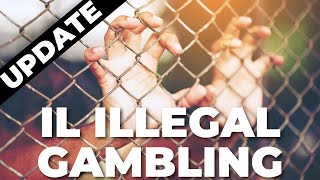 Why Amabile didn't get prison time
Judge Pacold cited Amabile's effort to "make things right" when handing out the home detention sentence.
After quitting the police force, Amabile took a job in the logistics industry with his family. He has since sold his assets and repaid $52,000 of the $100,000 he owes as a forfeiture.
"I will never put myself or my family through anything like this ever again," Amabile said. He said that most gamblers placed their bets to enhance their excitement while watching games.
Becker also wrote:
"This court can say John Amabile was a police officer who disgraced his uniform and disgraced honest policemen everywhere and sentence him to jail. Or the court can say John Amabile is an individual with a gambling disease. He is not a bad person. He needs help."
Defendants involved in the Uncle Mick Sports ring are receiving varying sentences. Some are getting jail time, while others are receiving punishments such as home detention or probation.
Why legal gambling is better
While there is no evidence that Amabile threatened gamblers, his former partner Paloian has a history of doing so. There are many problems with illegal gambling, but are none scarier than the potential for physical violence.
In 2004, Paloian was sentenced 3.5 years in prison for running a mob-connected bookmaking operation. Back then he would refer people who couldn't pay their bets to mob enforcer Jimmy Inendino.
Bookies and offshore sportsbooks don't have regulations or guardrails in place to restrict such troublesome behavior. In fact, preying on losing bettors is usually part of the business model.
Legal sportsbooks, on the other hand, frequently promote responsible gambling. There are also state-sanctioned resources and hotlines in place in order to help problem gamblers, as well as gaming regulators who thoroughly vet each sportsbook.