What Are Prop Bets?
When you're getting ready to kick back and watch the game, it's perfectly normal to have instincts on how events may shake out. For example, you might have a strong feeling that Anthony Rizzo is hit a home run for the Cubs or the Chicago Bears will rack up the rushing yards on Sunday.
You can put your money where your mouth is now that Illinois sports betting is legal.
Prop betting is a fast-growing part of the sports wagering industry. Proposition bets are basically side bets that you can place on events that could happen during a game.
A number of opportunities are available to explore for each contest on the docket. Making the right calls can deliver some nice returns as well. We're going to cover all of the ins and outs of prop betting in Illinois right here.
What is prop betting?
Prop bets are additional wagering opportunities on individual games and events. There are also season-long props within the futures market. Many of the available props will revolve around statistical accomplishments.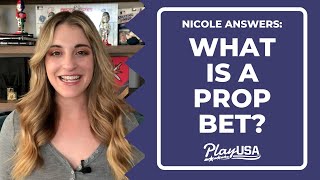 To that end, prop bets bring a bit of a fantasy sports element to sports betting. Your decision about what to bet doesn't necessarily revolve around which side wins or loses, but rather on a specific performance.
Prop offerings may vary by operator. All the legal, regulated sports betting operators in Illinois feature a decent selection of props for each game. You can shop around to see the various prop bet options at sportsbooks such as Caesars and FanDuel.
What are the different types of prop bets?
Types of prop bets will generally fall into four broad categories. Here are the details and an example for each.
Player props
A player prop revolves around a specific statistical accomplishment or performance metric. Many present like a totals bet, in which you have to choose the over or under:
How many strikeouts will Yu Darvish have?
Over/Under 7.5
Team props
The team-based props will cover a club's performance during a game, as well as specific circumstances that could come up. For an NFL game, you could see the following:
Which team will have more rushing yards in the game: Chicago Bears or Los Angeles Rams?
Game props
A game prop bet will revolve around the results of an entire game or something that might happen during it. You could see an example, like the following for an NHL game:
Will overtime be needed to decide the game?
Yes or No
Season-long props
These wagers will revolve around accomplishments for a season as a whole. A season-long prop could include how a player will perform during the coming campaign, for example:
How many sacks will Khalil Mack have this year?
Over/under 11.5
For each of the four categories, you'll find a wide range of choices at legal and regulated IL sportsbooks. Offerings may vary, so be sure to shop around for the best prices and bet types.
How do I place a prop bet?
Placing a prop bet is a snap whether you're betting on an Illinois sportsbook app or a website. The first step is to identify which prob bet you wish to place. For each game on the sportsbook, you can click through the game listing or the "More Wagers" link for available options.
Oftentimes, you'll see some dropdown menus for various prop categories. For example, an NBA game prop may have a wager available on player scoring:
Who will have more points in the game?
Zach LaVine (+105)

Jimmy Butler (-115)
After you make your choice, it's a matter of clicking on the box with the odds, which then adds it to your betting slip. Next, enter the amount you wish to wager and verify everything is correct. Lastly, click submit to place the bet.
Prop betting odds explained
Since there are so many different kinds of prop bets to consider, the odds will naturally vary. Generally, you'll find props with just a few choices and others that have a range of selections to consider.
For a prop with only two choices, there will be odds listed on both sides of the equation. An NFL player prop could look like this:
How many yards will Nick Foles throw for?
Over 249.5 (-125)

Under 249.5 (+115)
Some props will have several choices to consider and will include the odds. An example is this standard bet on NHL games:
Which player will score the game's first goal?

Patrick Kane +125

Connor McDavid +125

Leon Draisaitl +140

Dominick Kubalik +165
And so on. You may also see the odds listed with numbers for several of the top players and a final choice of "any other player."
For odds with two or three choices, the listing will look something like a moneyline bet. When it's a prop with lots of options, it'll resemble what you would see in the futures market, with the odds listed in descending order.
Which Illinois sportsbooks offer the best prop bet odds?
No matter what type of bet you are looking to place, it's important to remember that the odds won't necessarily be the same at each sportsbook. For example, PointsBet may have odds of -125 on a moneyline favorite, while FanDuel is offering -120 on the same side.
It's the same story with prop betting. The odds that you see at BetRivers may differ at Caesars, and the same holds true for which props are available. While many of the props for the popular sports will be in the same ballpark at most operators, there will be variations.
That's why line shopping is so important. It's good practice to check the prices and offerings at multiple operators to find the ones you like the best. You may find some gems you weren't expecting.
How do books calculate prop bet payouts?
A lot of prop bets have positive odds, e.g., +120. In cases such as this, the math is simple. The positive number represents the amount you stand to win from a successful $100 bet. In this case, the profit would be $120.
When you add a prop bet to the slip and plug in your wager amount, the sportsbook will display the potential return. That's a quick and easy way to do it, but be careful that you don't accidentally click submit on any bets before you're ready.
Some online handicapping calculators allow you to plug in the bet amount and odds to see your potential return. However, to figure it out on your own, see the formulas below:
For Negative Odds: Wager amount/(odds/-100) = potential profit

For Positive Odds: Wager amount*(odds/100) = potential profit
Online prop betting rules in Illinois
You'll find that betting rules are similar at various online and mobile operators here in Illinois. Though there can be some differences among various sportsbooks, here are the major points you need to know about prop bets:
The book considers player prop bets to be live wagers after the game gets underway and if the player has suited up to play. If the player is ruled out in advance of game time, the sportsbook will void the wager and return bet amounts.
Settlement for prop bets depend on official league data, scoring and results.
If a game is delayed, postponed or canceled altogether, the prop bet will stay active if the game is completed within a reasonable time frame and voided if not.
Those are the basic rules, but there may be various circumstances that arise. For details on how these situations are handled at the books you play on, take the time to review the terms and condition.
Examples of sports prop bets
After you gain prop betting experience, your comfort level will increase. To get you there quicker, let's look at some examples using several sports:
NFL prop bets
Whether it's a busy NFL Sunday or the standalone primetime tilts, NFL betting sites will offer up plenty of prop betting opportunities for each game.
There will also be a plethora of popular Super Bowl prop bets made available each year. Included on the overall NFL list will be performance targets for key players.
How many total receptions will Allen Robinson have?
Over 6.5 (-115)
Under 6.5 (+105)
For this bet, you simply have to decide how many passes Robinson will haul in during the game. If you go with the over at odds of -115, you're golden if he catches seven or more balls. For under bettors at odds of +105, the hope is that he'll snag six receptions or fewer in the game.
NBA prop bets
High-scoring NBA games align very well with prop betting. You won't be lacking opportunities on each slate of basketball games from the regular season right through to the playoffs.
Who will have more points plus assists in the game?
Kawhi Leonard (-112)
LeBron James (-108)
For this prop, you have to project out which of the two superstars will record more points plus assist in the contest. A winning $100 bet on Leonard at odds of -112 is good for a profit of $89.30. Winning $100 wagers on James at -108 would bring back $92.30.
MLB prop bets
To further increase your engagement throughout the lengthy MLB campaign, there will be dozens of props available for each game. Many of them will be player-related, while others will revolve around team performance. For example:
Which team will deliver the first to three runs?
White Sox (+135)
Twins (-105)
Neither (+150)
Included among the choices for this prop is neither, which means that you don't think either side will make it to three runs in the game.
NHL prop bets
A good number of NHL props will naturally revolve around goal-scoring. Beyond the standard options, there will also be ones that offer up some serious payout potential if they come to pass.
Player to score two or more goals in the game:

Nikita Kucherov +350

Brad Marchand +450

David Pastrnak +600

Steven Stamkos +700
If you make an NHL pick and it comes to pass, you're looking at a nice return coming back. That said, wagers like this are very speculative, so adjust wager amounts and expectations accordingly.
Golf prop bets
Prop bets are among the vast menu of offerings for each PGA Tour stop and major golf tournament. You'll find props devoted to the performance of individual players, such as:
How many birdies will Tiger Woods have in Round Two?
Over 5.5 (+145)
Under 5.5 (-125)
Research is your friend for props of this nature. For example, you'll want to examine the average birdies per round that Woods has been carding of late, and his past performance on the current course.
UFC prop bets
For UFC fight cards, you'll find props available for each of the matches. In some cases, you'll even see props for the entire card of action, such as "fight of the night." On the individual fights, you could see things such as this:
Will the fight go the distance?
Yes (-160)
No (+130)
If you think that a decision is in the cards, then you'll choose "yes" at odds of -160. A "no" bet at odds of +130 means that you think the fight will end early, such as via knockout, submission or a stoppage by the referee.
Prop betting for other sports
You'll also see props on the menu for other sports such as NCAA football, NCAA basketball, NASCAR and tennis. For college football and basketball, it's important to remember that wagering on games involving in-state teams is prohibited online.
You can now place Tier 1 wagers on Illinois teams in person, but that does not include player props.
NASCAR and tennis props will work similarly to what you'll find in golf and UFC. There will be bets on individual competitors and the event as a whole available. Additionally, you may find props available in some smaller sports, but the offerings won't be as numerous.
How to handicap sports prop bets
For props that revolve around team performance or specific game outcomes, you'll be able to lean on usual thing you uncover while handicapping games and events. Player props require a different perspective.
A player prop bet has a fantasy sports flavor. Most of these wagers center on statistical accomplishments or performance metrics. The outcome of the game itself is irrelevant as the focus of the bet is on what the player might do in the contest.
That said, the betting odds and lines for the game itself can provide some clues on what might happen from a scoring perspective. For example, a game that's expected to be tight and high-scoring could be a boon for the output of key contributors.
Meanwhile, a game that's projected to be defensive-minded and low-scoring could lead to some muted output. You can use the odds for the three big bet types — moneyline, point spreads and totals — for some clues on what might be on the way.
Here are some more tips on how to gain insight on a player's performance or an upcoming game:
Research Fantasy Sports Projections: If you've played daily fantasy sports or any other kind of fantasy sports, then you know that there are lots of sites that provide projections on players. While spot-on assessments are rare, you can use the approach of using the wisdom of the crowd. If many sources you trust are pointing toward a monster game, then listen up.
Study Past Performance vs. Current Opponent: Players can excel versus certain teams while falling flat against others. It comes down to the matchups, defensive assignments, game plan and other assorted factors, but the overall track record doesn't lie. When considering player props, be sure to review how the player has performed in the past versus the current opponent.
Review Player Output for Last Few Games: Athletes are human just like the rest of us. They may go through stretches in which they're feeling great and performing up to their capabilities with little effort, while other times may be more of a grind. Looking at output over the last three to five games can be a solid indicator of what may come in the next outing.
As for betting on props, the same rules apply as for other types of wagering: Have a plan, stick to a budget and don't go overboard. There's no need to wager on every prop out. Instead, take a selective approach to the most high-probability selections.
For budgeting, you can allocate a portion of your bankroll toward props. Then further break it down into realistic wagers and more speculative chances, say something like an 80/20 split. Last but not least, always remember to bet using your head and never over it.
What to remember about prop betting
Prop bets are additional wagers that sportsbooks offer on games and events. You'll find them available for all major sports, including the NFL, NBA and golf. Many props revolve around player performance, while others cover team or game circumstances.
In a nutshell, a prop bet is like having side action on a contest. Prop bets can fit quite nicely into an overall handicapping strategy once you get up to speed on how they work.