Another member of the "Uncle Mick Sports" illegal gambling operation will not serve prison time. Earlier this week, a judge in Illinois sentenced Matthew Namoff, 25, to two years of probation, six months of home confinement and a fine.
Namoff of Midlothian, IL, pleaded guilty to facilitating illegal sports bets while a student at Illinois State University in April. With his sentencing now over, the issue of whether the ring's leader will face prison time looms large.
More>>>Defendants In Illegal Gambling Ring Are Getting Light Sentences
Another sentence for Uncle Mick illegal gambling ring member
From 2016 through 2019, the Uncle Mick illegal bookmaking operation took millions of dollars in illicit wagers. Namoff himself acted as a "runner," essentially recruiting other students at ISU to place bets on the platform.
Although prosecutors sought a prison sentence between six months and a year, the state judge in charge of sentencing sided more with Namoff's defense.
According to Kade Heather of the Journal Gazette & Times-Courier, the defense focused its arguments on Namoff's age, the low-dollar amounts of the wagers he facilitated and his lack of other criminal records.
Prosecutors, in return, pointed out that Namoff recruited more bettors than other runners in the scheme. They also pointed to the fact that many of the bettors he recruited were under the legal gambling age at the time.
In Illinois, it's illegal for anyone younger than 21 years to bet on sporting events. Additionally, it's illegal to place those bets with any company or individual that does not have a license to do so from the Illinois Gaming Board.
While Namoff begins working to pay off his $10,000 fine, the primary figure in the ring is awaiting sentencing. His fate has significance beyond his future.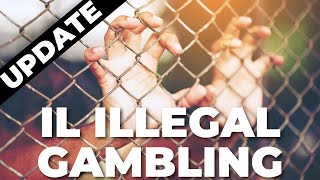 Does this mean a hefty sentence for the ringleader?
Vincent "Uncle Mick" DelGuidice pleaded guilty to multiple charges in February. Those included money laundering on top of conspiring to conduct an illegal gambling business. The FBI investigation said DelGuidice personally collected over $8 million from the scheme.
Thus far, only one of the 10 people that federal prosecutors charged has been sentenced to prison time. That is Nicholas Stella, a former Chicago police officer.
Casey Urlacher, brother of former Chicago Bears player Brian Urlacher, might have received prison time but received a pardon from former President Donald Trump.
More>>>Free Help For Problem Gamblers In Illinois
With legal options for sports betting available and given the vulnerability of younger people to develop pathological gambling problems, prosecutors might seek a harsh sentence for DelGuidice. That's especially true given how other members of the ring have avoided incarceration so far.
Within a few months, DelGuidice should know his future. At the same time, all Illinoisans will learn the exact cost of illegal bookmaking.