The 14th casino in Illinois is now open and the Rebuild Illinois fund is $25 million richer.
On Friday, Governor JB Pritzker officially cut the ribbon to open the $147 million, 190,000-square-foot Walker's Bluff Casino Resort in southern Illinois near the town of Carterville.
It is the third Illinois casino to open this year following The Temporary in Waukegan and the Golden Nugget in Danville.
And, a fourth casino — the first in the city of Chicago — will open in a few weeks at The Medinah Temple.
Specifically, Walker's Bluff is located equidistant between St. Louis and Nashville. The casino, located at 777 Walker's Bluff Way, Carterville, IL, is expected to provide jobs for 300 people. It will is home to:
650 slot machines
14 table games
113-room hotel
Five restaurants: Ruthie's steakhouse & seafood, Draft Day sports lounge, 22 & Vine cafe and The Lounge
A full-service spa
A 1,200-seat event center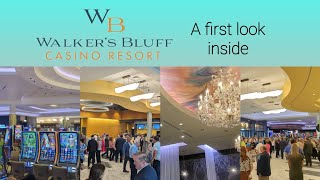 Rebuild Illinois projects benefitting southern Illinois communities
As part of the opening, the Walker's Bluff Casino Resort cut a check for $25.3 million to the Rebuild Illinois fund.
The fund is Pritzker's multi-year capital improvement program to repair and build infrastructure across the state. Specifically, Capitol News Illinois reported the fund has already contributed to projects in southern Illinois, including new buildings at both Southern Illinois University Carbondale and John A. Logan College in Carterville.
In all, four Illinois casinos have now opened since Pritzker's 2019 gambling expansion bill signed in his first term.
The Hard Rock: An Opening Act casino in Rockford was the first to open in November of 2021. A permanent Hard Rock Rockford casino is expected to open in late-summer of 2024.
Elite Casino Resorts owns and operates Walker's Bluff
Elite Casino Resorts LLC is the majority owner of Walker's Bluff Casino. The facility is built on land owned by Cynde Bunch and her family.
In 2008, Bunch and her late husband, David, opened the upscale Walker's Bluff restaurant and general store on land now shared with the casino. The casino project was four years in the making.
"This collaboration has not only resulted in a state-of-the-art establishment but has also empowered our community by driving economic growth and creating jobs," said Elite CEO Dan Kehl told WSIL TV. "I'd also like to thank Cynde and the late David Bunch for bringing this project here."
Tom Griffith, general manager of Walker's Bluff Casino, added via statement, "The opening of Walker's Bluff Casino and Resort is a testament to the dedication and synergy of our community. This establishment is a source of pride for all involved, and its impact will be felt for generations to come."
Two more Illinois casinos still to open
As well, two more Illinois communities that will welcome casinos as part of the gambling expansion. When completed, the total number of casinos in the state will be 16. That does not count expected casinos at Hawthorne Race Course and FanDuel Sportsbook & Horse Racing in Fairmount.
Notably, Bally's temporary casino at The Medinah Temple in River North, set to open in September, will eventually be replaced by a $1.74 billion permanent Bally's Chicago casino being built on the site of the former Chicago Tribune printing plant in River West. The full-scale Chicago casino is expected to open in 2026.
Finally, the Wind Creek casino is expected to open in 2025. It will be located near the south suburban Chicago villages of Homewood and East Hazel Crest. The area is close to the Indiana border.