Editor's Note: As of Saturday, March 5, 2022, you no longer have to visit a retail sportsbook in Illinois to sign up for a legal online sportsbook. Instead, you can register for an Illinois sports betting account on your phone or computer.
Illinois Gov. JB Pritzker threw the IL sports betting market for a loop on Friday, abruptly ending mobile registration despite rising COVID-19 cases.
Now, people must visit an associated Illinois casino, racetrack or off-track betting (OTB) site in order to create an online sportsbook account.
And barring any new legislation or a new executive order, that's how it will be for Illinois sports bettors for a while.
Here's what we know about when and how mobile registration could return.
Illinois would need an online-only license approved
Once a mobile-only operator is licensed, we can return to remote registration. The problem? That can't happen until December at the earliest.
Right now, every licensed sports betting operator has some kind of tie to a land-based entity. However, the law also allows for three mobile-only licenses.
The catch, as previously mentioned, is that those licenses won't be available until 18 months after the first mobile sports betting license was granted. They also cost $20 million apiece.
By comparison, master licenses cost $5 million.
The first mobile license was issued on June 11, 2020. Eighteen months out puts us at December 2021.
But even though that's the earliest possible date, it's unlikely that a license would be handed out that quickly. Consider this section from the Sports Wagering Act:
"Applications for the initial competitive selection occurring after the effective date of this Act shall be received by the Board within 540 days after the first license is issued under this Act to qualify. The Board shall announce the winning bidders for the initial competitive selection within 630 days after the first license is issued under this Act, and this time frame may be extended at the discretion of the Board."
The 630 days would put us at March 2022; there is even language that allows the process to go beyond that date.
While that's one piece of the puzzle, we can't gloss over another crucial aspect.
Will anyone even bid for an online-only license?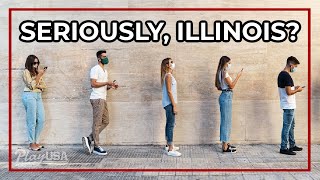 The problem with Illinois online-only licenses
Obviously, the Illinois sports betting market has not played out as intended.
DraftKings and FanDuel found loopholes to avoid the 18-month "penalty box" by partnering with casinos and racetracks. Then, they became the two largest operators in the state during the nine months while Pritzker's executive order was in place.
With DraftKings and FanDuel out of the running for the online-only licenses, what operator will pony up $20 million to join this market?
And even if another operator does, it opens up online registration for others that didn't have to fork over the $20 million.
So, in effect, a new operator would be paying four times more than current Illinois operators did for a license. Meanwhile, they'd be doing their competitors a massive favor.
Perhaps an operator out there is willing; however, on the surface, it doesn't seem like an enticing proposition.
Which sportsbook operators could come to the rescue?
As of now, BetMGM and Unibet are pending sports betting applicants.
BetMGM Sportsbook Illinois would likely have market access through Par-A-Dice Casino, while Unibet has access through Argosy Casino Alton.
TheScore Bet has yet to formally apply, but it recently signed a market access deal with Harrah's Joliet.
Seeing as how all the biggest US players are already in Illinois, it's hard to target any outsider that would pay $20 million for the mobile-only license.
Bet365 looms as a possibility. Though again, it'd be paying a hefty sum and helping out established and upstart competitors.
Or, Illinois lawmakers can take action. We will continue to keep an eye on online casino legislation and monitor this topic in the coming months.