The prosection of the illegal Uncle Mick gambling ring continues to deliver results. Last week, a member of the ring — that federal prosecutors said was one of its largest agents — pleaded guilty to the allegations against him.
With the guilty plea by Justin Hines, charges remain outstanding against just two persons of interest in the crime. Hines now joins others who are awaiting sentencing, including the ringleader.
Uncle Mick gambling ring agent pleads guilty
The 42-year-old Hines won't know his fate until Jan. 7, the date the court has set for his sentencing hearing. So far, most of the members of the ring who have pleaded guilty have avoided any prison time.
That includes the most recent member to receive a sentence, 25-year-old Matthew Namoff. Namoff worked as a recruiter for the ring. A federal judge gave Namoff two years of probation, including six months of home confinement and a fine of $10,000.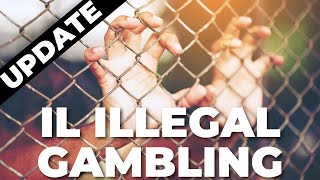 The indictment against Hines said that he accepted wagers and recruited bettors for the illegal sports betting website. He split the take with the ring's leader, Vincent "Uncle Mick" Del Giudice, and met with either Del Giudice or his runner to settle up.
The amounts that Hines dealt in were significant. For example, Hines admitted to collecting $26,000 from one bettor. Hines also said he delivered hundreds of dollars or thousands of dollars at disparate times when he met with Del Giudice.
Prison time might await Hines, others
Given the larger nature of Hines' transactions and his direct involvement with Del Giudice, Hines might be looking at some actual prison time. Two of the other more important role players in the scheme have received prison sentences.
Del Giudice himself is still awaiting sentencing, however. He pleaded guilty in February, about a year after prosecutors first unsealed the indictments against the ring. Currently, there is no sentencing hearing on the docket.
Prosecutors might be waiting until after it settles charges against the other two people involved in the investigation, Keith Benson and Vasilio Prassas. Convictions of or guilty pleas from both/either could aid the feds in seeking a tougher sentence against Del Giudice.
To date, the only member of the ring to avoid any consequences at all for his role is Casey Urlacher, brother of former Chicago Bears linebacker Brian Urlacher. Casey received a presidential pardon after his conviction.
Del Giudice and others should not hope for the same outcome, however. The likely best-case scenario for them is home confinement and probation.