The entire 2021 NCAA Tournament will take place in Indiana, and the venues will welcome fans at a limited capacity.
Like Illinois, sports betting is legal in Indiana. In fact, the Hoosier State has almost twice the amount of betting options as the Prairie State.
If you're in Illinois and traveling to Indiana to bet on March Madness, here's what you need to know about the sports betting landscape.
You can bet on Illinois college teams
The Illinois Fighting Illini are on track to earn a No. 1 seed in the NCAA Tournament, while Loyola-Chicago has already punched its ticket to the dance.
If you're in Illinois, legally betting on either team is prohibited due to state law.
But once you're in Indiana, you can bet on either team, whether that's a futures bet or a single game bet.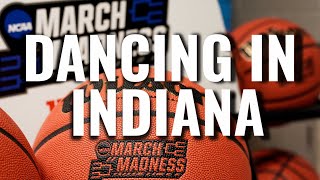 Loyola-Chicago, if you were wondering, is currently projected to earn a No. 8 seed in Joe Lunardi's latest bracket. It has a chance to reach its second Final Four in four years.
You'd have to go back decades to find the last year that two Illinois college basketball teams were this good. And yet, Illinoisans can't bet on their home teams in the first year that sports wagering is legal during March Madness.
In Indiana, you're free to back the Illini and Ramblers as you please.
Closest casinos to Illinois/Indiana border
On that note, perhaps you're not attending the NCAA Tournament but would like to bet on Illinois or Loyola-Chicago and spend time at a casino.
If you're in or near Chicago, there are four casinos in northwest Indiana: Horseshoe Casino Hammond, Majestic Star Casino, Ameristar East Chicago and Blue Chip Casino.
If you're in downstate Illinois, Tropicana Evansville is also an option.
Of course, you don't actually need to go to a casino in order to bet. You can do so from your mobile device.
Here are the Illinois sportsbooks that you can also use in Indiana.
Most IL sportsbooks are also in Indiana
Now that Barstool Sportsbook is live has launched in Illinois, the Prairie State hosts six online sportsbooks. They are:
Every sportsbook on that list is also available in Indiana, with the exception of Barstool.
Though if you're crossing state lines, the transition is easier at some sportsbooks than others.
At DraftKings, FanDuel and PointsBet, you won't need to download anything new.
But William Hill and BetRivers have state-specific apps, which would require new downloads.
And, of course, there are also options that aren't available in Illinois, including (but not limited to) MGM Sportsbook, Unibet and theScore.
Big Ten Tournament in Indiana, too
Illinois is the No. 2 seed in the Big Ten Tournament and will play its first game on Friday.
The Illini will face the winner of Thursday's Indiana vs. Rutgers game. If Illinois wins, it would likely face Iowa on Saturday, barring a significant upset.
The tournament championship game takes place on Sunday, and Michigan is the No. 1 seed.
At other DraftKings markets, such as Indiana, Illinois is listed at +900 to win the national championship and +150 to make the Final Four.
The Illini only trail Gonzaga, Baylor and Michigan on the odds board.