This year is the first time that Illinoisans can legally bet on the Super Bowl in the Land of Lincoln.
The logical follow-up question: What can you bet on exactly?
There are currently five online sportsbooks in Illinois: DraftKings, FanDuel, PointsBet, William Hill and BetRivers.
Each has hundreds of prop bets available, far more than any typical NFL game. The Super Bowl is always the most bet on individual game on the sports calendar.
Most Illinois sportsbooks have a similarly lengthy betting menu for the big game, though certain operators have lines available that you can't bet on elsewhere.
And obviously, you can still make the usual bets, such as spread, moneyline, point total, first touchdown scorer, etc.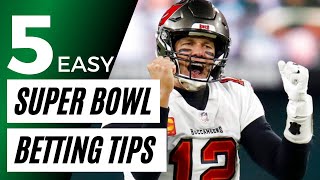 What are the odds on the Super Bowl?
Here are the current Chiefs vs. Buccaneers lines at top IL sportsbooks:
But if you're looking for some novelty items, here are some of the highlights for Super Bowl betting in Illinois.
DraftKings Super Bowl props
At DraftKings, like the other four Illinois online sportsbooks, you can bet on the outcome of the coin toss. The standard vig for that bet is -103.
Claim Your $1,200 Bonus at DraftKings Sportsbook

1
Up to $1,200 BONUS
New User Bonus. T&Cs Apply
DraftKings Promo: Bet $5 Get $150
PLUS $50 Bonus Bet On Deposit

PLUS up to $1,000 Deposit Bonus
PLUS a Daily No Sweat Same Game Parlay
Gambling Problem? Call 1-800-GAMBLER

To Claim: Click Play Now
You can also bet on the coin-toss winner, whether it's the Chiefs or Buccaneers.
Beyond the coin toss, DraftKings also has some interesting trick play specials. For example, the over/under for "players to attempt a pass" is 2.5.
So, if there is a trick play involving a running back or receiver throwing a pass or a backup quarterback has to come in, the over would hit.
DraftKings is also offering a "Fat Man TD" prop. An offensive lineman scoring a touchdown is listed at +2,000.
An offensive or defensive lineman scoring a touchdown, meanwhile, is offered at +800.
FanDuel Super Bowl props
FanDuel also offers coin-toss outcomes, and has some other fun props to consider as well.
New Players get up to $150 in Bonus Bets at FanDuel Sportsbook
Up to $150 in Bonus Bets if Your Team Wins
Available on Desktop, Android & iOS

To Claim: Click Play Now

Think the last play of the game will be a kneel down? "Yes" is currently -135 at FanDuel, while "no" is +105.
FanDuel is also offering some interesting quarterback props.
Tom Brady or Patrick Mahomes throwing six touchdowns or more is offered at +1,000.
You can also bet on certain individual plays. For example, Mahomes' first pass attempt result is offered at -200 complete, +155 incomplete or intercepted.
Brady, on the other hand, is listed at -185 complete and +145 incomplete or intercepted.
PointsBet Super Bowl props
PointsBet, like some other books, is letting users pick their own lines.
Get up to $1,000 in Second Chance Bets at Pointsbet Sportsbook
1
Get Up to $1,000

In Second Chance Bets
Get up to $1,000 in Second Chance Bets
10 Bonus Bets up to $100 each
To Claim: Click Play Now

For example, let's say you're feeling extremely confident in the Buccaneers. You can bet them -16.5 at +650 odds, if you wish. There are various combinations available for the Buccaneers or Chiefs.
PointsBet is also offering single game teasers. For example, Chiefs +2.5 and over 50 is listed at -110.
Another fun one seen at most books: you can bet on the exact total of touchdowns scored. Currently, six is the favorite at +400 odds.
BetRivers Super Bowl props
BetRivers has many of the same props as listed above, but a few interesting wrinkles.
If you could see Andy Reid burning an early timeout, you can bet the Chiefs using the first timeout at -112. The Buccaneers are also -112.
On a related note, you can take either team to use the first challenge of the game at -112.
William Hill Super Bowl props
One fun thing about Super Bowl betting is that you can get extremely specific, if you wish.
William Hill Illinois offers the exact number of plays on the first TD drive. "Seven or eight" is the favorite, listed at +300.
A random one: what will be longer, the gross yards of the first punt, or the longest TD scored? Both are offered at -110.
One more note …
At Wednesday's Illinois Gaming Board meeting, administrator Marcus Fruchter said books can offer what color Gatorade will be poured on the winning coach.
However, as of this writing, no Illinois books have it listed. It will be interesting to see if that changes as the big game nears.
Illinois sportsbooks also cannot offer bets on the length of the national anthem, commercials or half-time show content.